Profile of Nitin Mehta, MBE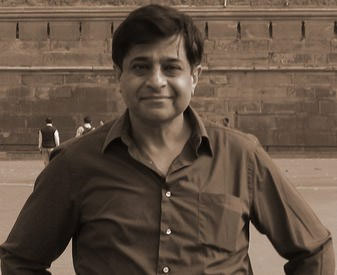 Nitin Mehta was born in Kisumu, Kenya. He has lived in the UK for many years. He is a dedicated professional with an excellent reputation in organising cultural events. He is a passionate and a renowned speaker on India's spiritual heritage as well as vegetarianism and veganism. He is also an active campaigner for animal rights. He was instrumental in setting up the first vegetarian society in Kenya, Mauritius, New Delhi, Paris, Lisbon and in the states of Punjab and Andhra Pradesh, India. Apart from English he speaks fluent Swahili, Hindi, Gujarati and Punjabi. Nitin holds a degree in Sociology from Goldsmiths and is the owner of an Auto Parts business.
ACHIEVEMENTS
1975: Founder of Bharatiya Sanskar Kendra (Indian Cultural Centre). Duties included organising youth clubs and liaising with the local authorities regarding Indian affairs.
1974-1994: Taught Gujarati Language every Saturday for 20 years in Croydon and Tooting.
1981 to 2017: Has organised a Christmas Lunch every year to enhance community cohesion. 37 years so far!
1978: Founded the Young Indian Vegetarians Society
1990: Organised the first mass vegetarian rally in Hyde Park.
1991: Founded the Jain Animal Sanctuary which has donated hundreds of thousands of pounds to animal sanctuaries over the years.
2017: Shree Vishwa Sanatan Dharma Mandir (Hindu Temple), 132 Whitehorse Road, Croydon, Surrey, CRO 2LA founded by Manmohan Abbot, becomes the first temple anywhere to go Vegan. Only non-dairy milk is offered to God
PUBLIC SERVICES
1974-1976: 'Keep the Pond Tidy' group.
1986-1988: Croydon Guild of Voluntary Organisations (now Croydon Voluntary Action).
1988: Hindu Temple on Enmore Road, South Norwood for four years.
1990: Police Consultative Committee in Croydon for 3 years.
1995: Chairman of Croydon Economic Forum for 2 years.
1996: Governor of Croydon College served for 6 years
1998: Electricity Consumers Council (South East Region).
2004: Board of directors for Compassion in World Farming.
2004: Volunteer for ' NightWatch' running a soup kitchen every night for the homeless in Croydon
2005: Patron for Quaker Concern for Animals
2011: Appointed to serve on Croydon Task Force in the aftermath of riots in the town
AWARDS
1995: Led a group of young performers at
the VE day celebrations in Hyde Park, received a certificate of commendation.
1999: MBE in Queens's birthday honour's list.
2002: Award from Ken Livingston (Mayor
for London) for making a significant contribution to London.
2006: Received 'Sanskar Garima' award for services to Gujarati language and Vegetarianism from Gujarat Samachar and Asian Voice publications.
2008: Presented with the, 'Glory of India' by India
International Friendship Society for promoting Indian Culture in the UK.
2011: Received Ahimsa award from the Institute of Jainology, UK.
2012: Award for being a volunteer for the Night Watch Charity which provides food for the homeless in Croydon every night.
AUTHOR OF THE FOLLOWING BOOKS
Future in our Hands
A request to the people of India from the vegetarians of the world.
Benefits of Vegetarianism to Africa
Sunil's Kenyan Days'
Easy Gujarati
India a civilisation the world fails to recognise.
Ahimsa Magazine 2018
Through the Young Indian Vegetarians, an organisation devoted to promoting the benefits of a vegetarian diet and exposing the cruelties involved in the production of animal based foodstuffs, Nitin produces an annual newsletter "Ahimsa".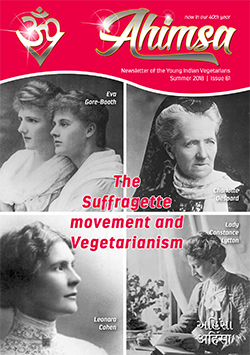 Ahimsa
əˈhɪmsɑː/
noun
noun: ahimsa
(in the Hindu, Buddhist, and Jainist tradition) respect for all living things and avoidance of violence towards others.
Origin
Sanskrit, from a 'non-, without' + hiṃsā 'violence'.
How many animals are killed for food each year in the UK

H.H. Acharya Sushil Kumar Ji Maharaj
June 15th 1926 – April 22nd 1994
Guruji Sushil Kumar Maharaj's Instructions
Do persuade others to give up meat.
Do speak the word 'vegetarian' at every opportunity.
Go only to vegetarian restaurants.
Don't wear or buy leather goods, (sofas shoes etc).
Total Page Visits: 20558 - Today Page Visits: 13