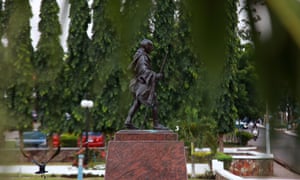 So some professors at the University of Ghana have succeeded in their campaign to remove the statue of Gandhi from campus (Ghana plans to move statue of 'racist' Gandhi, 7 October). Gandhi inspired some of the greatest black leaders. Harris Majeke, a former South African ambassador to India, said: "While Nelson Mandela was the father of the South African nation, Gandhi is our grandparent."
Mandela was greatly influenced by Gandhi, as was Desmond Tutu, who credits the success of South Africa's truth and reconciliation commission to the influence of Gandhian thought. Gandhi made a huge impression, too, on Martin Luther King.
Surely these leaders understood Gandhi better than the professors at the University of Ghana? They further accuse Gandhi of perpetuating the caste system; yet no one has done more to stand up for the rights of India's lower classes. Meanwhile, will those same professors accusing Gandhi of racism acknowledge the role some people in Ghana played in selling tens of thousands of their countrymen to the slave trade?
Nitin Mehta
London
Total Page Visits: 463 - Today Page Visits: 2